Berean Builders Elementary Science in History Curriculum Review
We absolutely LOVE our science curriculum this year! We are using the first book of the Berean Builders Elementary Science in History series, which is called Science in the Beginning. Here I'll share what I was looking for in a homeschool science curriculum, why I chose Science in the Beginning for our homeschool, and what I love about it.
I only recommend products that I use and that we love. This post contains affiliate links and I may earn a small commission when you click on the links. There is no additional cost to you and you are supporting my family as I help others homeschool with confidence. Thank you!
What to look for in a Homeschool Science Curriculum
These are the things I was looking for in a homeschool science curriculum, that led me to find the Berean Builders Elementary Science in History curriculum:
Biblical Worldview
For us, a Biblical worldview in science is so important. I attended public school as a kid, and I never really understood why we studied science. But now I know that science is the study of God's creation. We get to learn all about what God created, and how and why he created it the way he did. I think this purpose adds so much meaning to the study of science. I'm excited to share that deeper level of meaning with my kids. One of the reasons why we homeschool is to be able to pass along our worldview to our kids, in a world where there are so many competing and harmful ideas. So it is critically important to me that our science curriculum supports the worldview that we hold.
Experiments that Relate to the Lessons
Last year we used a science textbook that had great information, but no experiments in the text. When I picked the book I told myself that I would find experiments and hands on activities of my own to accompany it. My kids enjoyed reading the book together, but the reality is that life happened. We didn't do any experiments of our own. I occasionally planned an activity- but, let's be honest. Our homeschool time was just reading out of the book 90% of the time.
I have found that for us, I need to put time in up front to find a curriculum that has EVERYTHING we need. I'm just too busy during the school year to create my own curriculum by adding parts and pieces on a consistent basis. Sometimes I can do those things. But if I assume that I will have time to do that consistently throughout the year, it just won't happen. I need a science curriculum that has related experiments included.
Experiments that are Do-able for Elementary School Aged Kids
At first glance, this might seem like the same thing, but it's not. I have seen so many science experiment books that have really cool experiments… that are totally not doable in my home. Maybe you've seen them too. These are the experiments that require obscure ingredients or strange chemicals that can only be purchased from a specialty science store. Or can only be done outside on a sunny day at noon. Or require something extremely messy for every step. Or use dangerous substances that can only be handled by an adult- so the parent is doing the science while the kid is watching. Or take hours to set up the perfect conditions in order to see a result. These are not the experiments we are looking for!
I need simple experiments, that can be done with common household items. And I need experiments that can be done by a very energetic elementary schooler who doesn't always measure or read directions accurately.
Lessons that Work for a Wide Age Range
In our family, we do science together as a family. We have a 3 year age spread between our kids, so I need something that both kids can learn from at their levels. I am also looking for a curriculum series that will grow with my kids, so that they can continue to learn and be challenged from the books in the series even at upper elementary levels.
Variety of Topics vs. Immersion
My kids' interests are wide and varied right now. It seems like they have new interests weekly or even daily that they would like to know more about. Because of this, I was looking for a curriculum that would cover a wide variety of science topics in a year. Some of the other popular curricula spend an entire year covering anatomy, or biology, or astronomy. I think this would be great if I had an older child that could really concentrate on a deep dive in a certain topic. For my younger kids, I really wanted a wide overview of topics to be covered every year. I'm hoping we will be able to circle back to the same subject areas within science year after year to help reinforce what we've learned.
How Berean Builders Elementary Science in History is Organized
The Berean Builders Elementary Science in History series is a set of 5 elementary science books:
They are also available as a box set, "Science Through HiStory." These books are designed to be used with kids ranging in age from Kindergarten through 6th grade. The books are organized historically. The first book, Science in the Beginning, covers the 6 days of creation. Books 2-5 cover science in the order that things were discovered by famous scientists in history. This means that each book covers topics from a variety of different areas of science.
Lesson Organization
The book is organized into lessons, which makes lesson planning really easy. My lesson plan for science is literally, "Do the next lesson." The only planning that I do is that about once a month I look ahead at the upcoming experiments. I add any items that we don't have around the house to my grocery list or next Amazon order. I love that this book takes away all the barriers that prevent us from doing science!
The book has 90 lessons, organized into 6 units. Each unit has 12 regular lessons and 3 challenge lessons. It's designed this way so that it can be used with a variety of homeschool schedules. If you do science every other day on a loop schedule you can do all 90 lessons in a 180-day school year. If you choose to do science 2 days per week instead, you can just omit the challenge lessons and still be able to finish the book in one school year. To find out more about loop schedules or how we created our schedule, you can check out my post on Our Homeschool Schedule here.
Berean Builders Elementary Science in History Lesson Format
The lessons are made up of two parts: a section to read, and an experiment to do that helps reinforce what's covered in the reading. I love that the experiments often occur at the beginning of the lesson because kids are discovering things for themselves in the experiments. Then, the reading reinforces what they discovered and explains why things happened the way they did in the experiment. The text is actually written to the student, so it could be handed to an older student to read on their own. Our kids are younger so we read the text together as a group right now. I know this feature will be helpful when they are more independent.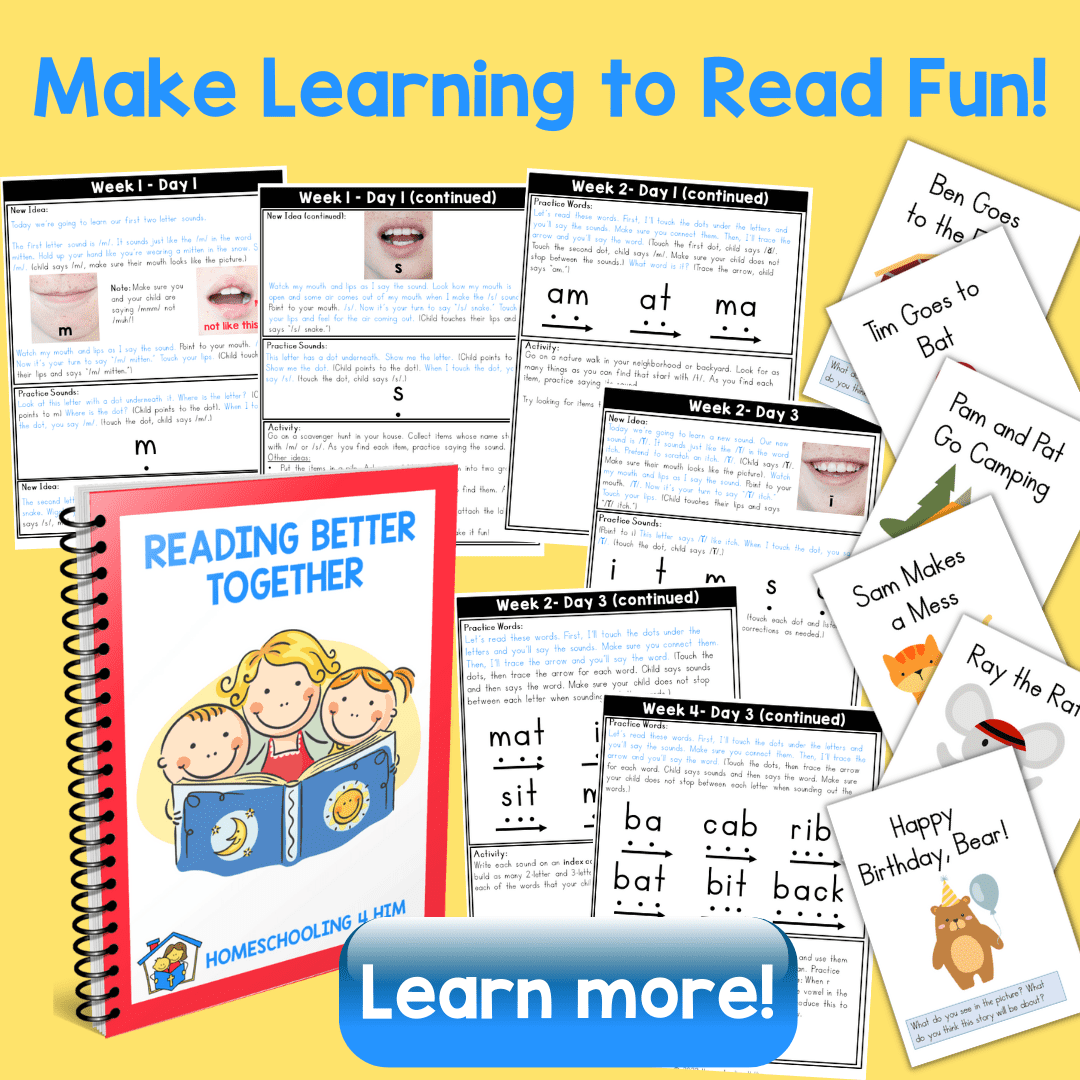 The experiments are always in a blue box, so it's easy to find them when paging through the book. The supplies needed are listed at the beginning of each experiment. There is also a complete supply list for the book at the beginning. There are sometimes notes to the parent/teacher in yellow boxes. These are usually warnings that an upcoming experiment requires some prep work or needs to be started the day before.
Review Questions
At the end of each lesson, there are review questions. These are divided into 3 sections based on the age of the child. The "Youngest Students" section has 2 review questions, which are usually simple fact questions that can be answered by reading the section. There are also assignments for "Older Students" and "Oldest Students." These assignments usually involve drawing or writing something about the lesson in a science journal or notebook. These questions usually involve some critical thinking about the topic of the lesson.
Top Reasons Why we Love this Elementary Science Curriculum for our Homeschool:
1. There is an experiment included with each lesson.
That means that we are doing an experiment every time we do science! My kids have started loving science because of this curriculum. They always ask to do it first, because they know they will get to do some kind of cool experiment.
2. I don't have to hunt for a lot of strange materials.
Almost all of the experiments can be done with just common things we already have around our house.
3. The experiments are designed to be done by the kids.
Even my young elementary schoolers can actually do most of the steps themselves.
4. The lessons explain why the results of the experiments happened the way that they did.
My kids are excited to read the lessons because they are wondering about what happened in the experiment.
5. The lessons go into lots of detail.
There is lots of great information that would be interesting even to an older elementary school aged child. But, the experiments help make the learning hands on so even younger kids can relate to what they are learning.
6. The review questions are organized by ages.
This makes it so the same lesson can be used for multiple ages. The family can work on the lesson together. After the lesson, each child can review on their own at an age-appropriate level of understanding.
7. The book can be used independently by an older child.
Over time we'll be transitioning to using this more independently, as my kids get older and more responsible.
8. The book covers topics from a wide variety of areas of science.
I love that kids will have the opportunity to learn about a variety of different branches of science each year, and to review what they know about each branch of science year after year.
9. The lessons are organized around the historical framework.
I am excited for my kids to learn about famous scientists and their discoveries as they study science. I think this context will provide a really unique framework for studying science. It will also help them to see that science is a changing field as people make new discoveries about God's creation, but that God's creation never changes.
10. This curriculum supports a Biblical worldview.
The lessons are structured within the days of creation, and many of the lessons also talk about God and His creation within the information that the kids are reading and learning.
Helps and Hints for Berean Builders Elementary Science in History
The Helps and Hints Book is an add-on to the textbook. The first half of the Helps and Hints book contains answers to the review questions that can be found at the end of each lesson. It also includes hints for doing some of the science experiments. The rest of the book is unit tests and answer keys for each unit in the book. Here's some things to keep in mind about whether or not you need this resource:
It's a 48 page softcover book.
It is nice to have answers for the review questions in the textbook. However, most of the review questions, especially for the younger students, can be answered pretty easily by reading the lesson. For right now I can figure out the answers to the review questions without actually using this section at all.
The hints for the science experiments are a great idea, but they aren't included for every experiment. Since this is the only part of the book we are actually using right now, I often forget to check for a hint until after we've already done the experiment.
The tests and answer keys would be a great resource if we needed tests. Right now I am just gauging my kids' understanding by asking them questions. We ask questions as we read the experiments and do the lessons, and we do the review questions afterwards. Sometimes I also review some of the previous lessons with my kids before we start reading our new lesson for the day. Because of all this review, I don't feel like we need the tests right now. For families that have legal requirements to do record keeping or test taking as a part of their homeschool, however, this would be a great resource.
What do you look for in a homeschool science curriculum? Have you tried the Berean Builders Elementary Science in History Curriculum? What did you think?