10 Reasons I'm Grateful for Homeschool
This year, more than ever, I am so grateful for homeschool. Homeschooling my children has changed my life, and my family, for the better in so many ways. Here's what I'm thankful for this year.
1. My Relationships with My Kids
The biggest reason that I am grateful for homeschool is that I have watched my relationships with my kids grow. We have bonded over many hours spent snuggling on the couch as my son learned how to read. I love the look of delight on my daughter's face as she brings me the alphabet magnets to practice letters on the fridge. We have done science experiments and puzzles and math games side by side. I love how each day our relationships grow a little bit deeper as we are bonding over figuring out that really hard problem or reading another story together.
It is so special that I get to be the one to have these moments with my kids. I am the one that gets to celebrate with them as they recognize the letters in a new word. I am the one that gets to see the moment when the light bulb goes on and they finally "get it." I am the one that gets to see their hard work pay off in new learning. And I wouldn't trade those moments for anything.
2. My Kids' Relationships with Each Other
I have 2 kids and they are 3 years apart. The year my daughter was born, we made the decision to keep my son home from 3 year preschool and homeschool for the first time. At first I felt guilty about that decision, because my daughter was born with colic and I spent more of that year than I care to admit, or frankly, remember, trying to calm her crying. But, if we had sent my son to preschool he would have spent almost all of my daughter's waking hours away from the house. Instead, he spent that time getting to know his sister and learning how to be a brother to her.
Now, my kids are very close. They still fight, just like any siblings do. But, when my daughter falls down and starts crying, it is her brother who is first to see if she is OK and help her stand back up. And when my son drops his Lego pieces on the floor and can't reach them, his sister is always happy to come to his rescue. I know that my kids will have that relationship for the rest of their lives, and I don't regret for one minute making it a priority. I am grateful for homeschool making this possible.
3. I'm Grateful for Homeschool Because My Kids are Amazing
I am blown away, on a daily basis, by what my kids have learned. This is not because they are particularly smart (although they are) or because I am a particularly good teacher. I think this is because they have both had freedom and space and margin in their lives to explore. They have had exposure to books and educational toys and resources to pursue their interests, and homeschool has allowed them the time to be able to learn and explore. They both love learning new things. I am so grateful for homeschool because it gives me the opportunity to watch them explore and interact with their world.
4. I Am Learning From My Kids
From the beginning, I knew that I would need to learn along with my kids as we did homeschool together. I have never tried to pretend that I know everything, and I don't mind telling my kids, "I don't know. Let's figure that out together." That has led to me learning about a wide variety of topics that I never would have otherwise. Lately, our studies have included African elephants, knights and castles, and construction trucks. Actually, I know more about construction trucks now than any human should care to know. But, I never would have explored these topics without guiding from my kids' interests.
5. I Am Growing Too
I am grateful for homeschool because it has stretched me in every way possible. As a mom, I am growing as I learn to give more and more of myself to my kids. I am growing as a teacher as I explore new ways to help my kids understand difficult topics. I am growing as a person as I have daily opportunities to practice patience and kindness, even when I'm not feeling particularly patient or kind. And God is growing my spiritually in so many ways as I walk in obedience through this journey that He has called me to. I am so grateful for this opportunity to grow as I follow Him.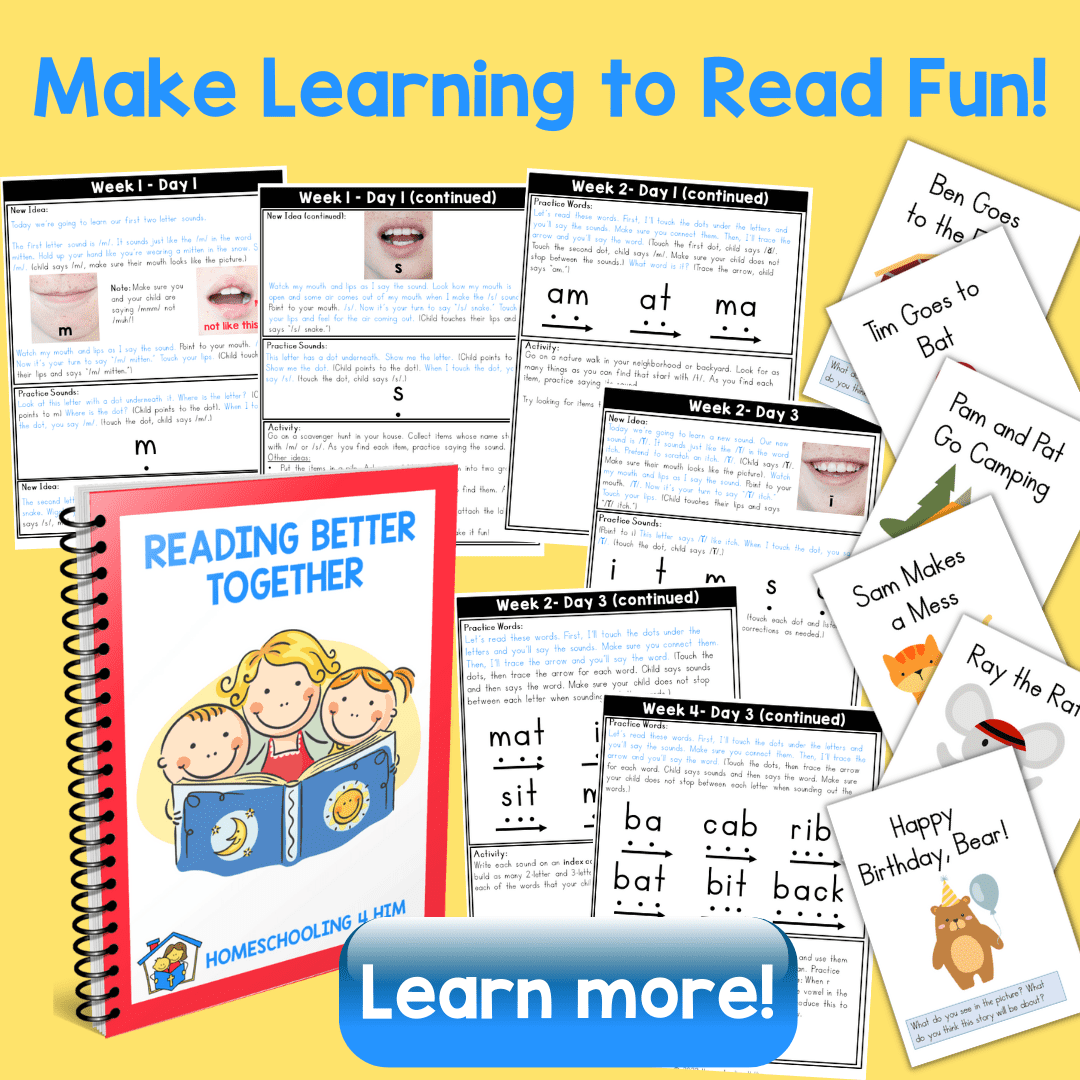 6. I'm Grateful for Homeschool Because I Get to Choose the Priorities
I love that I am the one who is in charge of the curriculum that my kids will be learning. It is awesome that I get to pick the subjects that we learn (within the scope of the law of course). And I get to choose how my kids will be learning them. And I am grateful for homeschool because I get to choose the worldview and the influences that my kids are exposed to. I absolutely love that my kids are learning through the lens of a Biblical worldview. I went to public school and became a Christian as an adult, so the differences between a Christian and a secular worldview are fascinating to me. School has so much more purpose as we are studying God's creation and learning to communicate about it.
7. I Am Building My Kids' Character
I am grateful for homeschool because I am the one who is building my kids' character. They are learning from me as their example- not the other kids in their class, or at recess, or on the school bus. This is humbling sometimes, as I know I'm not the perfect example of good character all the time. But, the Bible is clear that "Everyone who is fully trained will be like their teacher." (Luke 6:40). I am grateful to be able to be that example for them, and to know where their main influences are coming from.
8. I Control My Kids' Influences
On a related note, this world is a hard place to live sometimes. There are so many factors that cause our kids to grow up more, and sooner, than we would like. I am grateful for homeschool because it allows me to limit the influence of some of those negative situations for a little while. I know that I can't shelter my kids forever, and I'm not trying to do that. But, if I can choose to delay their exposure to bullies, or violence, or sexual situations, that's a win for me. And, in this year of so much uncertainty around Covid-19, I am grateful to be able to limit our family's exposure to school situations where germs could be spread.
9. I'm Grateful for Homeschool Because Our Days Are More Relaxed
I love that our family can sleep in, and stay up late if we want to. Our school schedule is flexible, and we can do school for extra days in the winter when my husband's job is busy and less in the summer when he has time off. I love that I'm not spending my mornings trying to rush my kids out the door to meet the school bus, or feeling like we need to hurry up to get to school on time. And we aren't spending our evenings doing homework and going to bed early to rest for school the next day. I am grateful for homeschool because school doesn't define the entire rhythm of our day's interactions. School is just a part of what our family does, a part of us being a family.
10. Homeschool Changes My Priorities for the Better
As a homeschool mom, I am making a big sacrifice for my kids. I gave up my career as a teacher and the ability to work outside the home. But I am gaining something so much greater- the ability to really know my kids, to experience every moment of their childhood firsthand, and to really invest significant time into their lives. My priorities have changed as I have walked this journey, and I am grateful for homeschool because homeschooling has changed me, too.
Is homeschooling hard right now? It is for me sometimes too! But, knowing why you are homeschooling can help you keep going when it gets tough. Check out my post on using your reasons for homeschooling to keep you going right here!