Essential Homeschool Supplies List
Shopping for your homeschool can be totally overwhelming. There are so many options out there. In this homeschool supplies list, I'll share what you will really need, and what is a waste of money. All of these options are recommended by both homeschool families and classroom teachers for durability and ease of use, too.
I only recommend products that I use and that we love. This post contains affiliate links and I may earn a small commission when you click on the links. There is no additional cost to you and you are supporting my family as I help others homeschool with confidence. Thank you!
Basic School Supplies
Click on any of the pictures to shop for these items on Amazon, or add them to your cart or wish list so you don't forget!
After trying lots of brands of pencils, we've found that Ticondergoa pencils are worth the extra money. The leads don't break inside, which makes them easier to sharpen and harder to break. Kids who are just learning to write should use thicker pencils, and these triangle-shaped ones help promote a good pencil grip. And it helps to stock up on some high quality erasers, too.
These Papermate Inkjoy ballpoint pens are amazing! They write in fun colors, but the ink lasts much longer than a gel pen.
For younger kids, scissors like these with a blunt tip and safety blades are perfect. They allow kids to learn to cut a variety of materials without getting hurt. Kids who are just learning to cut may enjoy this workbook. Older kids can use a slightly bigger pair.
We like the Elmer's glue sticks that are purple when the glue is wet. This helps kids see where the glue is more easily. Definitely buy more glue sticks than you think you will need. These tend to get used up fast!
Crayons are a staple for every homeschool. This box has lots of color choices and a built-in crayon sharpener in the back. The washable crayons come off of most surfaces really well. (And for any that they don't at first, a magic eraser will take crayon off just about anything!) For younger kids, consider the large crayons which are harder to break.
After trying lots of different kinds of markers, we have found that the classic Crayola markers don't dry out like others do. These ultra washable markers come off hands almost completely after washing, and marks come out of clothes in the laundry. Crayola's super tip markers are great for older kids.
It pays to invest in a sturdy tape dispenser like this one. A heavy weighted base makes this one easier for kids to use, and the refills are less expensive than individual rolls of tape. You will also need paper clips and rubber bands.
Dry erase makers are a staple that we use every day in our homeschool. Put any worksheet or workbook page in a page protector sheet and it becomes reusable! Or use a small dry erase board to cut down on the amount of paper your kids use and make any homeschool subject more fun.
Paper
The kind of paper that you need on your homeschool supplies list will depend on the age of your child and what subjects you are studying.
The perfect staple for art projects, and for printing worksheets and resources
Choose wide ruled for younger kids, and college ruled for older kids. This kind has reinforced edges which make the pages less likely to rip out of a notebook.
Handwriting paper is essential for kids in preschool through 1st or 2nd grade when they are learning how to print. I like this kind because it has a red base line which makes it easier for kids to put their letters on the right line. If you are using Handwriting without Tears, you should consider getting special Handwriting without Tears paper instead.
Graph paper is really helpful for kids who are working with place value in math and struggling to line up all their numbers neatly.
A versatile addition to any homeschool supplies list, perfect for art projects.
These are great for making flashcards and keeping information organized.
Sticky notes are perfect for writing notes, bookmarking the next page in your textbook, or even lesson planning. For an easy lesson plan, use one sticky note to mark the page in the book you'll be using, and a second sticky note on the cover to remember what topics or problems should be covered.
The slightly smaller size of a composition book makes it easy to take on a walk as a nature journal or use for copywork assignments. If you have younger kids, you will want to add a notebook with handwriting paper to your homeschool supplies list.
Teacher Supplies
This laminator is one of the supplies we use most in our homeschool! Use a laminating sheet (these basic ones work just as well as the name brand) to turn any piece of paper into a reusable worksheet. Write on your laminated sheets with a dry erase marker to use them over and over again. If you don't want to invest in a laminator, these dry erase pouches are another good alternative.
Easily cut out flashcards or cut sheets of paper to make mini books.
We like this one because it stops automatically when the pencil is sharp. It has a large container that holds a lot of pencil shavings so it does not need to be emptied very often.
This one has a lever on the handle to make it easy even for little kids to punch holes. You'll want a single hole punch, too.
A heavy duty stapler like this one is easier to use and less likely to get jammed when stapling thick pages together.
A larger white board like this one is perfect for mounting on the wall.
A globe is so helpful for geography and history lessons. Kids can find the places that they are studying!
Having a dictionary- and teaching kids how to use it- is still an important skill.
If you plan to keep track of the calendar and weather as part of your homeschool day, a reusable pocket chart like this one is a perfect addition to your homeschool supplies list.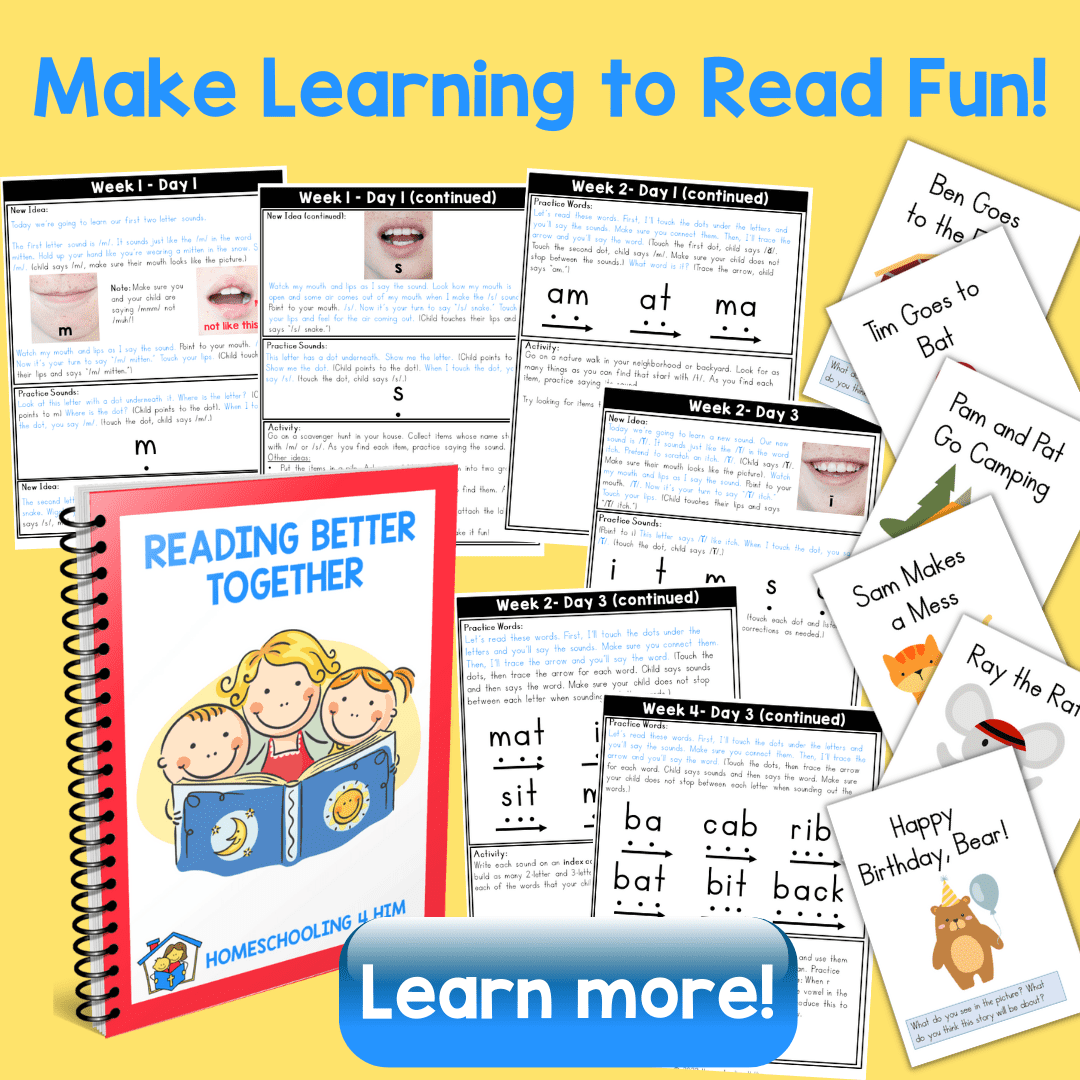 A printer is an important investment that will get a lot of use for any homeschool family! It's helpful to have a printer/copier combo like this one for last minute copies of pages from books as needed. And a subscription to HP Instant Ink is helpful for all the color printing!
Organizing Supplies for your Homeschool Supplies List
Drawer carts like this one are really helpful for organizing assignments and supplies. Learn more about how we use homeschool workboxes here.
A rotating supply caddy like this one will help you make sure that supplies are available when your kids need them. Removable sections make sharing easy. Or, you can get an individual caddy for each of your kids.
These are great for organizing papers- and for making lapbooks! Learn how to make a lapbook here. Pocket folders can also be a great way to organize assignments and papers.
This is another great way to organize all your homeschool papers. Choose a different color for each child, and keep all their assignments inside. Or, use a binder yourself to keep track of your schedule. You can download free planner pages to put in your binder here!
These boxes are helpful for storing binders, folders, papers, and even books. Assign one per child for keeping books and supplies in one place.
Clipboards are great for kids who want to work on the couch or floor- or even in the car! (They should practice handwriting at a desk, though.)
Timers can be helpful for kids that get easily distracted. For some kids, setting a timer can help them stay motivated to finish a lesson. This model has large, easy to use buttons.
Math and Science Supplies for your Homeschool Supplies List
Math Manipulatives
Check out my huge list of all the best math manipulatives for your homeschool here! (coming soon)
A clear ruler like this one makes it easier to see what you are measuring.
Measure angles, draw circles, and more
Explore specimens close up and personal! For younger kids, this one gets high marks.
Art Supplies for your Homeschool Supplies List
After trying many different brands, we love these Prismacolor pencils. The leads don't break inside, which makes these pencils easier to sharpen and harder to break.
We love tempera paint because it is washable and non-toxic. It comes off hands almost completely with a baby wipe, and washes out of clothes in the laundry.
Keep a stash of spares for last minute art project ideas.
A larger set with lots of colors to choose from makes any kid feel like a real artist!
These are a younger kid favorite! Use for bingo markers, fine motor activities, and so much more.
Great for all kinds of creative craft projects. Other craft supplies we love and always keep on hand include pipe cleaners and foam stickers.
A good sketchbook is the perfect place for kids to organize all their drawings.
Although not totally necessary, an easel is a fun way to encourage kids to get creative! The large muscle movements from drawing on an easel are also a great way for kids to develop their handwriting skills. This easel gets good marks for how sturdy it is. If you don't have room for an easel, try a large paper pad or paper roll instead.
Tips for Using the Homeschool Supplies List
1. Start Small
You will naturally accumulate supplies over time as you homeschool, so it's ok to start without everything on this list. Start with a few things that you know you will use, and gradually add to your homeschool supplies list over time.
2. Keep Your Supplies Organized
Make sure that you keep your supplies organized and keep track of what you have. Consider having one place in the house where all the homeschool supplies are kept. Then, whenever you need to find supplies, you will know where to look. Training your kids to put the homeschool supplies away when they are done using them will help, too.
3. Remember Your Kids' Ages
Different ages of kids will need different supplies. Younger kids will need thicker pencils and crayons to help them learn to write, while older kids may prefer pens, for example.
4. Choose Fun Colors and Patterns
Sometimes, special school supplies can be the perfect motivation for kids to do their homeschool work. Can kids do their copywork with a special set of pens? Or choose the color of their folder or binder? These kinds of things can help build excitement for them.
5. Look for Sales
Late summer, during back to school sales, is the best time of year to buy school supplies at great prices. You can also check the clearance section of your store in September or October to stock up on leftover items from the back to school sales, often even cheaper.
What about learning toys? Check out my list of favorite educational toys for each subject here!
Or, find your curriculum with curriculum reviews here!