Your Homeschool Reading List: The Ultimate Guide
Reading is one of the most important, and also one of the most fun, subjects to include in homeschooling. And a homeschool reading list can be a great tool for encouraging your kids to read. Here is what you need to know about creating a homeschool reading list. I'll also share what's on our reading list right now, and links to a ton of other homeschool reading lists organized by grade.
I only recommend products that I use and that we love. This post contains affiliate links and I may earn a small commission when you click on the links. There is no additional cost to you and you are supporting my family as I help others homeschool with confidence. Thank you!
How to Choose Books for Your Homeschool Reading List
Choosing the right books for your homeschool reading list can make the difference between helping your kids enjoy reading, or turning reading time into a daily struggle. Here are some things to keep in mind when choosing books.
Difficulty Level of the Book
It is important to make sure that you choose books that are just the right difficulty level for your child if they will be reading them independently. Books that are too hard will be frustrating to your child, and they will struggle to understand what's happening in the story. Books that are too easy can be boring and won't stretch your child to grow.
There are lots of assessment tests that you can give to figure out your child's reading level. But there is an easier way. Instead of testing your child, gather several books that your child can read mostly independently. If you can figure out what level these books are, you can take an average of several books to figure out your child's reading level.
A helpful tool for figuring out the reading level of a book is the Scholastic Book Wizard. This tool will also allow you to find other books that are appropriate for your child's reading level, once you determine what that is.
Content of the Book
Whether you are choosing independent reading books or read alouds, the content of the book is always an important consideration. Are the themes that are presented appropriately for your child's maturity level? Does the book introduce concepts that you don't feel comfortable sharing with your child?
One way to check the content of a book on your homeschool reading list is to read book reviews of the book before sharing it with your child. Common Sense Media has a large database of book reviews that include plot summaries as well as parental warnings for violence, inappropriate language, sexual content, drug use, and more.
The best way to make sure that the content of a book is appropriate for your child is to read it yourself first before sharing it with them. Your opinions of what is appropriate may differ from those of a reviewer, and you know your child best.
When Is My Child Ready for Chapter Books?
There are several factors to consider when kids are transitioning to chapter books.
First, it is important to make sure that your child has access to books that are appropriate for their reading level. The best way to help your child improve their reading skills is to make sure they have plenty of books to read that are the right level for them. This might mean including some chapter books if that is your child's reading level.
However, it is important to remember that younger kids use the pictures in a story to help them visualize the story in their heads. Finding a book that has at least some pictures will help them to do that. There are a variety of beginning chapter books that have more text on each page, but still include pictures, that can help kids with this transition. You can also look for illustrated versions of classic books that can be more engaging for kids.
As your kids transition to chapter books, it is important to ask them questions about what they are reading to make sure they are understanding the story. Discussing the book together can help them learn how to visualize the story in their heads.
Even if your child is ready for chapter books, it is OK for them to continue to read picture books as well. There are so many high-quality picture books, and it's important to make sure that kids get a chance to enjoy them!
How Many Books Should be on our Homeschool Reading List?
The number of books on your family's list will depend on your family, your individual children, and your homeschool philosophy. If your kids are fluent independent readers and really enjoy reading, you will need a longer list. If you are using a method like Charlotte Mason that relies on living books as textbooks, you will also have more books on your list.
It can be helpful to keep a running list that you continue to add to over time. This will help you make sure that when your kids finish a book, you always know what they can read next.
For older kids, it helps to create one master list of the books that you would like them to read before they graduate from your homeschool. Then, divide the list by the number of years of homeschool that they have left to get the number of books they will need to read each year.
Should I Let My Child Choose the Books?
Letting your child help choose the books is a great strategy. Kids who choose what they read will be much more excited and motivated to spend time reading it. This also helps kids have a sense of ownership of their education. The ability to choose a good book is an important skill for kids to develop as a part of becoming lifelong readers.
That said, it is also important to make sure that your child is choosing books that are appropriate for their age, maturity level, and reading level. This means that there should be some give and take in the process of choosing books.
It is OK to veto a book choice if you don't feel like your child is ready for the book. However, it is important to be sensitive to your child. Telling a child that they can't read a book because it's too hard for them can be really discouraging. In fact, it's best not to tell your child anything about their reading level. This is helpful information for a parent to know as their child's teacher, but it is rarely helpful to a child.
One strategy to try is to ask your child what they would like to read about, and then offer a few choices of age-appropriate books within that category. As kids get older, you might give them a homeschool reading list to look through and choose their books from.
Where to Find Books from your Homeschool Reading List
The Library
The library is always my first stop for finding the books on our homeschool reading list. The library is my favorite source of free homeschool curriculum. But I also love that we can return the books to the library when we are finished with them. It is so helpful that the books can be stored at the library, instead of my house!
Used Book and Curriculum Sales
One of my favorite places to find affordable books for our homeschool reading list is at homeschool curriculum sales. All the books for sale are books that at least one other homeschool family loved enough to own. And usually, the prices are a fraction of the cost of buying the book new. Our local library also hosts a used book sale once a quarter and I have found lots of great books there as well.
Facebook Groups
Homeschooling Facebook groups and curriculum buy-sell-trade groups can be a great source of books to read. These groups also have the benefit of offering books that other homeschool families loved, at a fraction of the price.
Amazon
If a book is one that you really love and plan to read more than once, or with multiple kids, purchasing the book new is a great option. You can also consider downloading the e-book through Kindle Unlimited. In addition, Amazon offers a 30 day free trial of Audible Plus for audiobooks that can be a great way to read the books on your homeschool reading list for free!
Getting Started with Homeschool Read Alouds
No matter what age your child is, they are never too old, or too young, for you to read aloud to them! One study shows that reading out loud to your child 5 or more days per week will help them to have better written and spoken language skills. Another study says that reading aloud to your child even just 3 times per week will make them more likely to score in the top 25% in test scores for reading.
Reading Aloud with Babies and Toddlers
It can be really difficult to read aloud consistently with babies and toddlers because they have such a short attention span. It can help to choose interactive books that have flaps, touch and feel sections, or directions to follow. You can also let your youngest child be responsible for turning the pages to keep them engaged.
Small children may have an easier time paying attention if they have an activity to do while they are listening to the story. Allowing them to play quietly with a toy, color a picture, or even eat a snack while they listen to the story can help. You can ask them questions about the story to check for understanding and keep them engaged as you read.
Small kids are also more likely to interrupt the story with thoughts of their own. One of the benefits of homeschooling is that we have more freedom to discuss these thoughts with our kids than a classroom teacher would. It is much easier to get one or two children back on track than a whole classroom. If there are too many interruptions, you can always say, "Let's talk about that after we finish the story."
Assigning Independent Reading from your Homeschool Reading List
Independent reading assignments are a fantastic tool for homeschooling older children who can read on their own. How you assign independent reading from your homeschool reading list will depend on the age of your child. Younger children will need shorter assignments and more frequent check-ins. Older children can handle longer assignments on their own and go longer between check-ins with you.
Do Audiobooks Count as Independent Reading?
Whether or not to count audiobooks as independent reading will depend on your goals for your child. If you are assigning reading to give your child practice with their reading skills, then a traditional book will be a better choice to accomplish those goals. You could work around this by asking your child to follow along with the audiobook in a print copy of the book.
If your goal is to expose your child to a wide variety of high-quality literature, audiobooks can be a great resource for independent reading. They are a helpful tool to allow kids to experience books they can't yet read on their own. Using a combination of print books and audiobooks can be a helpful way to include more books overall in your homeschool.
You can get access to unlimited audiobooks for a month with a free trial of Audible Plus!
How Can I Know What My Child Is Learning?
Homeschoolers have so many options for sharing what they have learned from the books on their homeschool reading list! Instead of tests, you can assign your child a creative book report or an activity based on the book they have read. Your child might write a journal as the main character, make a lapbook, or draw their own illustrations for the book.
One really fun idea is to create a book club with your child. You could both read the same book, and then schedule some time to discuss it together. This is a great way to assess what your child has learned about the book, while also building your relationship with your child!
Our Ultimate Homeschool Reading List
Here are 65 classic books that we have read (or are planning to read) in our homeschool!
101 Dalmatians by Dodie Smith
The Adventures of Peter Cottontail by Thornton W. Burgess
The Adventures of Tom Sawyer by Mark Twain
Anne of Green Gables by L.M. Montgomery
Babe The Gallant Pig by Dick King-Smith
A Bear Called Paddington by Michael Bond
Because of Winn-Dixie by Kate DiCamillo
Beezus and Ramona by Beverly Cleary
Betsy-Tacy by Maud Hart Lovelace
Black Beauty by Anna Sewell
The Boxcar Children by Gertrude Chandler Warner
Caddie Woodlawn by Carol Ryrie Brink
Charlotte's Web by E.B. White
Chitty Chitty Bang Bang by Ian Fleming
The Chocolate Touch by Patrick Skene Catling
The Courage of Sarah Noble by Alice Dalgliseh
The Cricket in Times Square by George Selden
Dear Mr. Henshaw by Beverly Cleary
Dominic by William Steig
Encyclopedia Brown, Boy Detective by Donald J. Sobol
From the Mixed Up Files of Mrs. Basil E. Frankweiler by E.L. Koningsburg
The Giver by Lois Lowry
Harriet the Spy by Louise Fitzhugh
Heidi by Johanna Spyri
Henry Huggins by Beverly Cleary
Henry Reed, Inc. by Keith Robertson
The Hiding Place by Corrie Ten Boom
The Hobbit by J.R.R. Tolkien
Homer Price by Robert McCloskey
The Hundred Dresses by Eleanor Estes
In Grandma's Attic by Arleta Richardson
Island of the Blue Dolphins by Scott O'Dell
Kildee House by Rutherford Montgomery
The Lion, the Witch, and the Wardrobe by C.S. Lewis
Little House on the Prairie by Laura Ingalls Wilder
Magic Treehouse Series by Mary Pope Osborne
Mary Poppins by P. L. Travers
Misty of Chincoteague by Marguerite Henry
The Mouse and the Motorcycle by Beverly Cleary
Mr. Popper's Penguins by Richard Atwater
Mrs. Frisby and the Rats of NIMH by Robert C. O'Brien
Mrs. Piggle Wiggle by Betty MacDonald
My Father's Dragon by Ruth Stiles Gannett
My Side of the Mountain by Jean Craighead George
Number the Stars by Lois Lowry
Old Yeller by Fred Gipson
Pippi Longstocking by Astrid Lindgren
The Phantom Tollbooth by Norton Juster
Pollyanna by Eleanor H. Porter
Rabbit Hill by Robert Lawson
Raggedy Ann Stories by Johnny Gruelle
Sarah, Plain and Tall by Patricia MacLachlan
The Secret Garden by Frances Hodgson Burnett
The Sign of the Beaver by Elizabeth George Speare
Socks by Beverly Cleary
The Summer of the Swans by Betsy Byars
Stuart Little by E.B. White
The Tale of Despereaux by Kate DiCamillo
The Trumpet of the Swan by E.B. White
Tuck Everlasting by Natalie Babbit
The Velveteen Rabbit by Margery Williams
Where the Red Fern Grows by Wilson Rawls
Winnie-the-Pooh by A.A. Milne
The Wonderful Wizard of Oz by L. Frank Baum
A Wrinkle in Time by Madeleine L'Engle
Homeschool Reading Lists By Grades
Are you looking for the perfect book for your child's level? Here are some fantastic homeschool reading lists, organized by grade.
Preschool
Books Every Preschooler Should Enjoy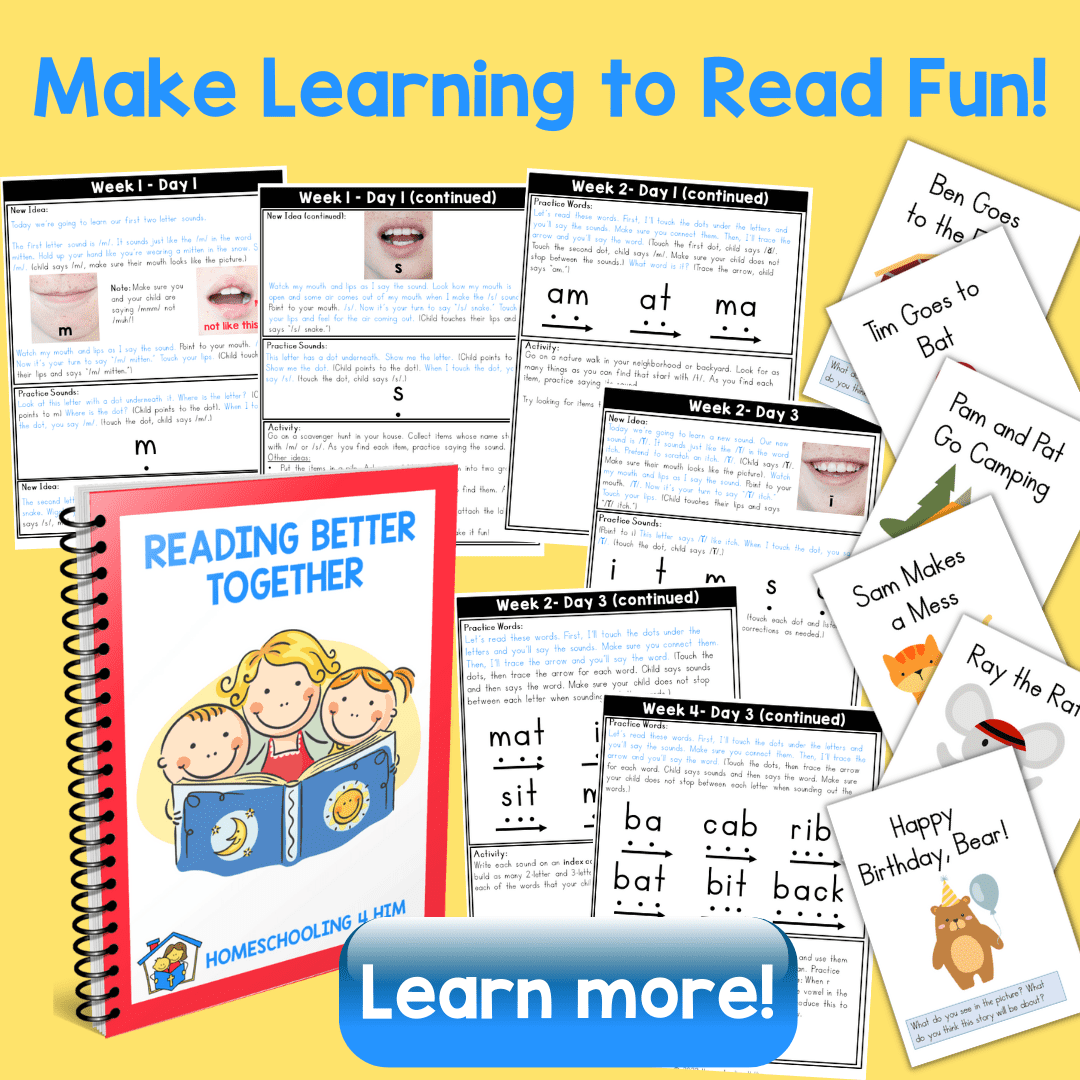 Preschool Book List for 4 Year Olds
Preschool Read Aloud Book List
Kindergarten
20 Great Books to Read to Your Kindergarten Child
Best Kindergarten Books to Read Aloud
Classic Novels for Kindergarten
Ultimate Guide to 5 Star Books for Kindergartners by Reading Level
Elementary Homeschool Reading Lists
52 Picture Books to Read with the Elementary Grades
75+ Favorite Read Alouds for Elementary Aged Kids
Beginning Chapter Books with Kids
Books for Middles (Upper Elementary Ages)
Chapter Books for Independent Readers, Ages 7-10
Classic Early Reader Books for Kids
Wholesome Books List- Early Reader
Wholesome Books List- Elementary
1st Grade
1st and 2nd Grade Reading List
100 Fun to Read 1st Grade Reading Books
Our First Grade Reading List Homeschool Picks
Classic Novels for Grades 1 and 2
Read Aloud List for First Grade
First Grade Read Aloud Picture Books
First Grade Read Aloud Chapter Books
Recommended 1st Grade Reading List
Ultimate Guide to Five Star Books for 1st and 2nd Grade Students by Reading Level
2nd Grade
Eight Read Alouds and Audiobooks for Grade Two
Our Second Grade Reading List Homeschool Picks
Read Aloud Chapter Books for 2nd Grade
Recommended 2nd Grade Reading List
Second Grade Semi-Independent Reading List
3rd Grade
Eight Read Aloud Novels for Grade Three
Grades 3-5 Series Books Reading List
Classic Novels for Grades 3 and 4
Recommended 3rd Grade Reading List
Summer Reading List for Grades 3-5
Read Alouds for Third Grade List
Third Grade Independent Reading List
Wonderful Books for 3rd Graders
4th Grade
Fourth Grade Independent Reading List
Great Reads for 4th-5th Graders
Printable 4th Grade Reading List
Recommended 4th Grade Reading List
5th Grade
50+ books for a 5th Grader who Loves to Read
5th Grade Literature Book List
Classic Novels for Grades 5 and 6
Our Fifth Grade Reading List Homeschool Picks
Recommended 5th Grade Reading List
Middle School Homeschool Reading Lists
52 Story Books for Middle Schoolers
50 Must Read Books for Middle School
Classic Novels for Grades 7, 8, and 9
Middle School to High School Reading List by Grade
Series Books for Middle School Reading List
Wholesome Books List: Middle School
6th Grade
50+ books for a 6th Grader who Loves to Read
Recommended 6th Grade Reading List
7th Grade
60+ books for a 7th Grader who Loves to Read
7th and 8th Grade Reading List
Recommended 7th Grade Reading List
8th Grade
45+ Books for an 8th Grader Who Loves to Read
Recommended 8th Grade Reading List
High School Homeschool Reading Lists
52 Literature Books for High Schoolers
100 Books You Should Read by the Time You Turn 20
Great Books: History as Literature
High School American Literature
High School Popular or Contemporary Literature
High School World and British Literature
9th Grade
Historical Fiction 9th Grade Reading List
15 Books 9th Graders Should Read
Recommended 9th Grade Reading List
10th Grade
10th Grade Homeschool Reading List
Our 10th Grade Homeschool Reading List
Recommended 10th Grade Reading List
11th Grade
15 Books that 11th Graders Should Read
Recommended 11th Grade Reading List
12th Grade
Creating the Perfect 12th Grade Reading List
Recommended 12th Grade Reading List
Check out more homeschool curriculum reviews here!