How to Use the Montessori 3 Period Lesson in Your Homeschool
I don't give tests in my homeschool. Ever. People who hear this are usually quick to ask: But, how do you know what your kids know? How do you know if they are really learning what they need to be learning? And if you don't know what they know, how do you know what to teach them next? My favorite tool for evaluating what my kids have learned is a trick from my days teaching in a Montessori classroom. It's called the 3 Period Lesson. Using this simple hack, you can structure your homeschool lessons so that you will know exactly what your child has learned, and just what to teach next. Here's everything you need to know about using the Montessori 3 Period Lesson in your homeschool.
What is the 3 period lesson?
A 3 period lesson is a lesson structure used in the Montessori method to help kids learn and remember new information. In the 3 period lesson, teachers break up the lesson into 3 steps, or periods, to help kids learn new information and remember and master what they have learned.
The 3 Periods are:
1. Introduction
2. Association
3. Recall
What is the purpose of a 3 period lesson?
A 3 period lesson allows a Montessori teacher (or a homeschool parent) to share new vocabulary and information with children in a very organized way. It allows kids to practice what they are learning and allows the teacher to evaluate kids' progress in learning the new information.
How can you present a Montessori 3 period lesson in your homeschool?
First Period: Introduction
The first time you share a new piece of information with your child, you are teaching the introduction lesson. You are naming something new and telling your child what it is. The focus of your first lesson about new material should be introducing the new material and sharing the names with your kids.
In a lesson about the names of different kind of leaves, the first period might include a quick nature walk to collect a variety of different leaves. Back at home, you might spread out the leaves on the table. You could then choose 3 different kinds of leaves to name and label. Naming and labeling the leaves would be the introduction, or first period lesson.
Tips for the introduction lesson:
Go slow. Only introduce one thing or a few things to your kids at a time. It is hard for kids to learn a lot of new vocabulary words at once. For example, if you are teaching the names of the letters of the alphabet, don't teach all 26 letters at once. Break the letters up into a few groups and teach one group at a time.
Repeat the name several times, because kids learn best when things are repeated. You can ask your child to say the name too, to practice their pronounciation.
It also helps to write the name down to label the object, so kids can see the written word. This will help kids that are visual learners to be able to remember the name better.
It is important to give your child a chance to explore the things they are learning about. If at all possible, have something for the kids to touch and hold while they are learning. This helps kids engage in the lesson, which will help them to remember what they have learned better.
Second Period: Association
In this phase, kids are learning to associate the name with the item, even if they don't remember the name on its own. This period is where kids repeat and practice the information that they are learning. Through repetition they will remember and master the new information. In this phase you can play games and ask your child to point out something when you say its name.
In our leaf name lesson, the 2nd period might involve playing a game. You might lay out the 3 different kinds of leaves that you named in the 1st period, and then ask your child to hand you a Maple leaf. Or, you might ask your child to match a set of printed labels to the leaves. In these games, kids do not need to remember the name on their own. They just need to be able to recognize the item when you ask them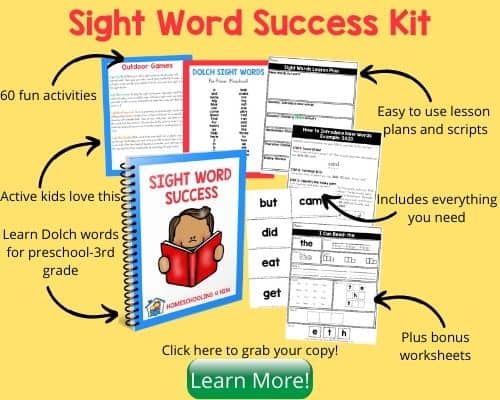 for it.
Tips for the association lesson:
1. Don't rush through this step! Give your child lots of opportunities to explore and observe. It is ok if kids spend more than one lesson, or more than one day, on the 2nd period. This is where they are learning and making connections.
2. Play games and make learning fun for your kids. You are teaching your kids to love learning, and this is one of the biggest benefits of homeschooling.
Third Period: Recall
The recall phase is when your child can tell you the information by themselves. You can test to see if your child has mastered the information in this phase, by asking them to tell you about it.
In the leaf name lesson, the 3rd period gives a chance to see if your child has mastered the names of the leaves. You could hold up a leaf and ask your child, "What kind of leaf is this?" If your child can answer correctly, they have mastered the information and are ready to move on to something new!
Tips for the recall lesson:
Don't rush into this step. Wait to start asking these questions until you think that your child will know the answer. Your goal is to help them feel confident in what they know and have learned.
Remember to review the information that you have learned from time to time. It's easy for kids to forget what they have learned if they never have a chance to review it! When you are asking questions in the recall step, it can be a good time to review other information that your kids have learned from earlier lessons.
Enjoy spending time with your child. These kinds of lessons are a great way to build relationships with your child because you are spending lots of time one on one with them.
Can this really replace tests?
Using the Montessori 3 period lesson in your homeschool can be very helpful because it gives us clues about what our kids know and what they still need to learn.
1. The first time you share new information, you are telling your child what you want them to know. "This animal is a giraffe."

2. Your child is beginning to learn the new information when they can point out that new information when you ask for it. "Which one is the giraffe?"

3. Your child has mastered the information when they can tell it back to you. "What animal is this?"
While you are working with your child, it is important to observe and pay attention to their responses. By watching, you will be able to see which facts your child knows, and which they are still struggling with. It is also helpful to have a system for recording or keeping track of which facts need more review. You could make 2 piles of objects, one that kids could point out when you asked and one that they didn't remember, that need further review. It also helps to write down some quick notes at the end of a 3 period lesson so that you can remember exactly where to pick up the next time that you work on those facts with your child.
Now that you know how to teach without tests, do you know WHAT you would like to teach? Check out my homeschool curriculum reviews!