How to Set Up Your Homeschool Room
Your homeschool room setup plays a big part in the success of your homeschool. Having the right homeschool room setup can make it easy to stay organized. It can also help with keeping kids motivated to do lessons. Here's how to set up a homeschool classroom that will be both fun and functional for your family.
I only recommend products that I use and that we love. This post contains affiliate links and I may earn a small commission when you click on the links. There is no additional cost to you and you are supporting my family as I help others homeschool with confidence. Thank you!
Must-Have Items for Your Homeschool Room Setup
No matter where you decide to homeschool, your space will need to have a few key elements.
A Writing Surface
The most important aspect of your homeschool classroom will be the writing surface where your kids can work. This can take several forms.
A Desk
Desks are great because they give a child their own individual workspace. This can be especially helpful for kids who struggle to concentrate, or get distracted easily by their siblings.
When choosing a desk, it is important to make sure that the desk is the right size for your child. When your child is sitting in their chair, the height of the desk should be about 1-2 inches taller than their elbows.
Having a desk that is the correct height will make it much easier for kids to write with good handwriting. It will also help them to be able to write for a longer period of time before getting tired.
It can be helpful to consider an adjustable desk that will grow with your child.
Homeschool parents should also be careful about desks with a lot of storage space on top. Having access to a lot of supplies stored on top of the desk can be very distracting for kids.
It is best to keep the top of the desk as clutter free as possible, except for the supplies your child needs for the assignment they are currently working on.
A Table
A lot of homeschool families prefer to have their kids work together at a large table.
One of the biggest advantages of a family table is the community aspect that it brings to homeschooling. When the whole family is learning together around the same table, it promotes family togetherness in a way that you just can't get with a desk.
A large table can be helpful for logistics, too. It's much easier to supervise multiple kids as they are working when they are all sitting at the same table. This can make it more convenient to answer questions and help multiple children at once.
Tables are also great for group projects and collaboration. It is much easier for siblings to work together on a lesson when they are sitting together at the same table.
As with a desk, it is important to make sure that the height of the table is correct for your child. The tabletop should be 1-2 inches higher than your child's elbow when they are sitting in their chair. Consider an adjustable table that will grow with your child.
A Clipboard, Tray, or Other Surface
One of the great things about homeschooling is the flexibility to work anywhere. Kids do not need to be sitting at a desk or table to get their work done.
Some kids prefer to work with a clipboard while lying on the floor or to use a lap desk and sit on their beds. The only limit to the options is your creativity!
It can be helpful to purchase a few options for alternate writing surfaces, to give your kids flexibility about where they work.
That said, when kids are first learning how to write, it is best to practice handwriting while sitting at a desk or table. Good handwriting is much easier when a child is sitting with good posture at a desk.
Somewhere to Sit
As with writing surfaces, the options for chairs in your homeschool classroom setup are endless. Here are a few things to keep in mind.
A Chair
When kids are working at a desk or table, they will need a comfortable and supportive chair. It is important that the chair is comfortable to sit in for long periods of time, and that it encourages your child to sit with good posture while they are working.
The height of the chair is also very important. When sitting in the chair, your child should be able to rest their feet comfortably on the floor. Their hips, knees, and ankles should all be at 90-degree angles.
Having the right sized furniture for your child is a simple way to make homeschooling easier for them. This will mean less fighting and resistance for you!
Other Comfortable Seating
Many homeschool families like to have other areas where kids can work independently on their lessons. A beanbag chair, a hammock, or even a tent with pillows can be fun options that kids enjoy.
Having these kinds of options in your homeschool room setup is a great way to help kids get motivated to work on their lessons and to keep the school day fun.
Storage and Organization for Supplies
One of the most important functions of your homeschool classoom is to keep your homeschool curriculum, books, math manipulatives, and supplies organized in one place. This means that you will need to have some specific storage solutions in your homeschool room setup.
Bookshelves for Organizing Curriculum
In your homeschool classroom, you will need a place to organize all of your textbooks, workbooks, teacher's guides, and read aloud books. Organized bookshelves are helpful for this purpose.
We use bookshelves to store the curriculum that I used for my oldest, and am saving for my younger child. I also sometimes purchase curriculum in advance to use in the future, and those options are stored on our curriculum bookshelves too.
It helps to have everything organized where you can see it, so that you can remember what you have and avoid purchasing duplicates.
Organized Storage for School Supplies
Your homeschool classroom is also a great place to organize all the school supplies that are just for homeschooling. Have dedicated supply caddies and bins where school supplies are kept, so you know where to look when you need something.
It is helpful to train the whole family that the homeschool supplies stay in the homeschool room. When the family can remember to put away homeschool supplies after they are done using them, it makes it much easier to find what you need in the future.
It also helps to label the containers so that everyone knows what is supposed to go where. If your kids are not yet readers, take a picture of each category of school supplies and tape it to the container instead.
A System for Current Lesson Supplies
In your homeschool classroom setup, you will want to have a separate place for organizing the books, materials, and supplies for the lessons your kids are working on right now. It helps to have a designated place to store any papers and materials your kids are currently working on, too.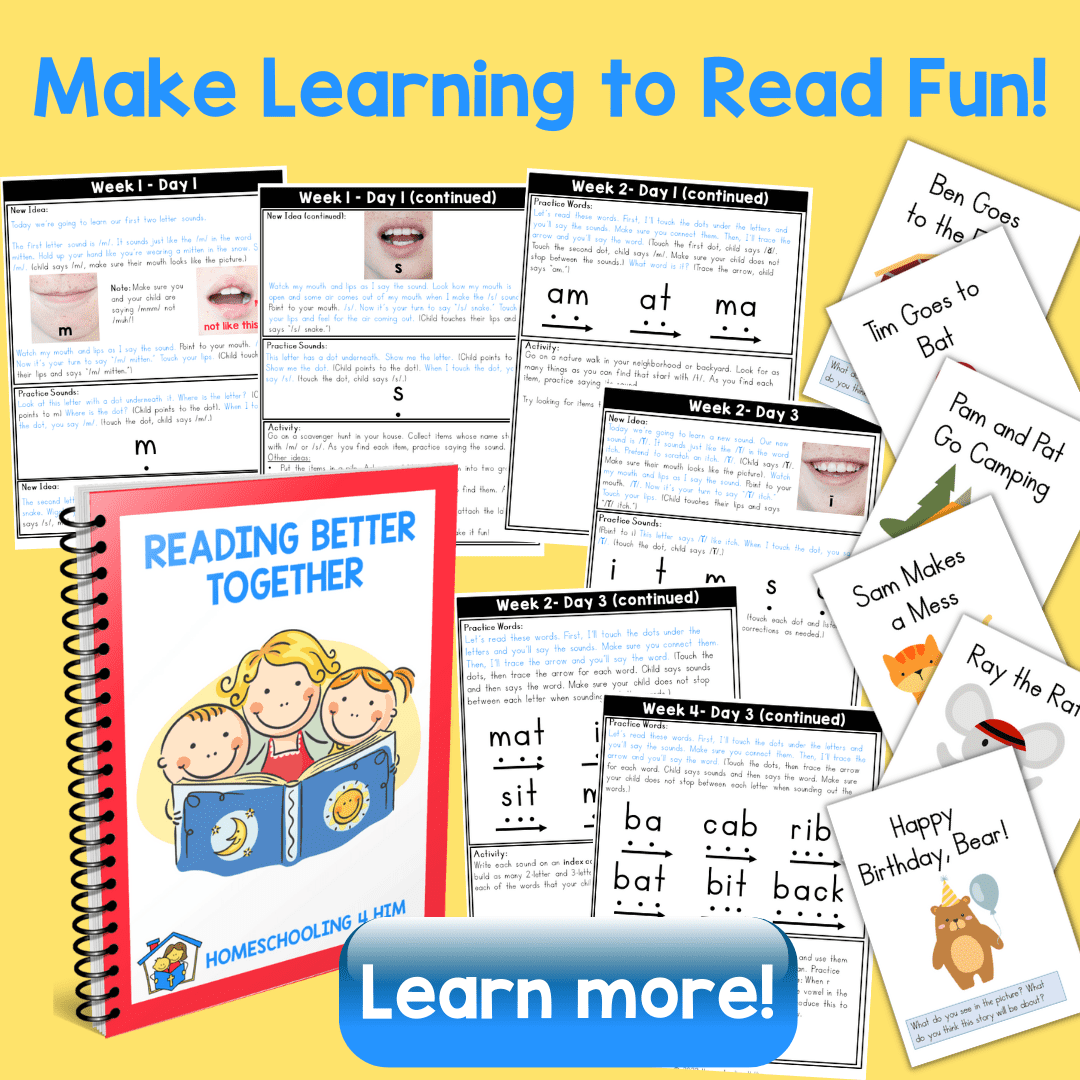 One solution that works well for many families is homeschool workboxes. Workboxes give you a place to keep lesson books and assignments, and they also give kids a structure for knowing what lessons need to be completed each day. You can read more about how to set up and use homeschool workboxes here.
What about the Walls in Your Homeschool Room?
Many families really enjoy decorating the walls in their homeschool classrooms. The great news is that this is totally optional. But, if you do want to decorate the walls, here are some ways to make your decorations both beautiful and functional.
A Dry Erase Board or Chalkboard
One of the best things you can put on the walls in your homeschool room is a dry erase whiteboard! You can use the whiteboard for lessons, write notes to stay organized, or use it for your kids to practice handwriting or math facts.
Posters and Charts
Many families like to hang up posters or charts about the topics that their kids are studying. This can be a fun way to decorate, and to reinforce what your kids are learning.
If you decide to hang up posters, consider hanging them at your child's eye level instead of your own. This will make them stand out more for your child, and make them much easier for kids to read too.
Some homeschool families like to create a timeline for their homeschool room walls as a part of their history lessons. This can be a great way for kids to see how events in history are related to each other.
A Bulletin Board
Bulletin boards can be a fun way to change the wall decorations for your homeschool room on a regular basis. You could create a space to hang up some of your kids' finished work on the wall. A bulletin board could also be a way to display important reference papers.
Top 10 Tips for Your Homeschool Room Setup
Once you have the right supplies, it's time to set up your homeschool classroom. Here are some things to keep in mind to help you create a space that is both fun and functional.
1. What are your goals?
Before setting up your homeschool room, it can help to take some time to think about your goals for your kids and your reasons for homeschooling. This will help you create a room that helps you accomplish those goals.
Are you hoping to inspire your kids to read more books from your reading list? Consider creating a cozy reading nook with comfortable seating and open bookshelves. Looking to study biology? Set up a microscope station and slides.
2. Consider the Layout
How you organize your furniture in the space can make a big difference. Make sure the room is functional for your kids, and for you.
It is important to make sure that each child has a workspace where they can focus on their lessons. Make sure that the space is flexible enough to create opportunities for group projects, too.
3. Make Your Homeschool Room Setup Kid-Friendly
It is important to make sure that your kids feel comfortable in their homeschool classroom, so they will want to spend time there. One important way to do this is to make sure that the furniture is child-sized so that they will be comfortable as they are working.
It is also important to make sure that materials and supplies are accessible to kids. Consider adding low open shelves and simple storage solutions, so that your kids can find what they need easily.
This will help keep your classroom neat because it will make it easier for kids to be able to clean up and put away their own supplies after they finish each lesson. It will also help minimize interruptions from kids who need help finding or reaching materials.
4. Consider the Paint Color
Studies show that the color of the walls in a classroom actually does make a difference. Cool colors like blue, green, or purple can help kids relax and focus better, while warm colors like red, orange, and yellow can encourage kids to be more creative.
5. Eliminate Clutter
For a homeschooler, clutter equals distraction. The more clutter you have in your homeschool room, the more likely it is that your child will get distracted by it while they are working.
Consider embracing minimalism in your homeschool room setup. Make sure that everything that's in your homeschool classroom is serving a purpose.
It is especially important to make sure that your child's workspace is free from clutter and distractions.
6. Keep Your Homeschool Room Organized
Make sure that everything in your homeschool classroom has a place, and keep things put away when you are not using them. This will make it easier to find things when you need them, and prevent kids from getting distracted by clutter.
It also helps to make sure that there's a convenient trash can or recycling bin in your homeschool room. Kids will be more likely to use the recycling bin if it is convenient!
7. Play Some Music
Music can add a lot to the atmosphere of your homeschool room. Make sure that a way to play music is a part of your homeschool room setup.
Playing classical music while your kids work is an easy way to include more music in your homeschool curriculum. You can also choose to play instrumental music or even your kids' favorite songs while they work. This is a great way to motivate kids that need a little extra encouragement.
8. Create a Learning Environment
How can you be intentional with your homeschool room setup to encourage your kids to learn? And how can your room inspire your kids to learn?
Consider adding some educational toys or board games that will help reinforce topics you are studying. This is called strewing, and it's a great way to encourage some extra learning and reinforce new concepts in a fun way.
9. Give Your Child Some Input in the Homeschool Room Setup
How can your child help to design your homeschool room? After all, this is their classroom.
When kids get a say in the decision-making process, it helps them to take ownership of the decision. Kids will also be more motivated to use a homeschool room that they helped create.
Consider adding decorations or elements that reflect each of your kids' personalities and interests. Kids can help pick out the furniture and supplies, too.
10. Remember to Go Outside
Your homeschool room is not the only place that you can homeschool! Many families homeschool successfully from just about anywhere in the house, or even in the car.
And of course, time outside has so many benefits for kids. Being outside gives lots of opportunities to study nature, as well as to get some exercise and fresh air. Just because you made a fantastic homeschool room doesn't mean you need to use it all the time- or even at all.
Find more Homeschool Tips here!